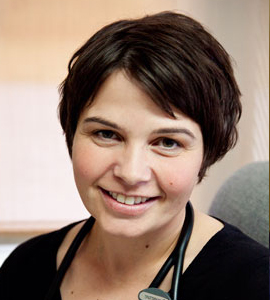 Dr. Tanya Sparling
Owner/Veterinarian, DVM, B.Sc
Dr. Tanya Sparling owns Amherst Veterinary Hospital. She joined AVH after graduating from the Ontario Veterinary College, and purchased the practice in 2012. Tanya grew up in the Amherst area and had a desire to return to her roots along with her husband and young daughter. We feel very fortunate for their decision. Upon meeting with Tanya, you will immediately realize her compassion and deep concern for the well-being of her patients and clients. One of the advances Dr. Sparling brought to the hospital is in the field of ultrasound.
Dr. Carolyn Hollis
Veterinarian, DVM, B.Sc
Dr. Carolyn Hollis began employment at the Amherst Veterinary Hospital after graduation from the Atlantic Veterinary College, Charlottetown, P.E.I. She has a very calm and methodical approach to her work and as our most senior Veterinarian, Dr. Hollis is very supportive and helpful in all aspects of the Hospital. Her knowledge and experience is an extraordinary asset for both patients and staff. Along with her husband, Dennis, and two children Mallory and Evan, they provide a loving home to many pets which include little bunny rabbits.
Dr. Emily Youé
Veterinarian, DVM, M.Sc, B.Sc
Dr. Emily Youe first began at our Hospital while completing her externship in 2010. Upon graduation from the Ontario Veterinary College, she accepted a full-time position with us in 2011. Emily's mom is an Amherstonian and has many family members and friends in this area. She brings to us the most up-to-date techniques within the profession and with the experience and knowledge of our present Veterinarians, this is a great combination. Because of her kind and gentle way of approaching any situation, we are pleased to have Emily as a member of our Hospital.
Dr. Ernie Prowse
Veterinarian, DVM, B.Sc., B.A.
Dr. Prowse has always had an interest in orthopedics and since graduation has devoted a great deal of time and training in this field of veterinary medicine. He has been certified by the Ohio State University for hip replacement surgery, Slocum Enterprises in Eugene, Oregon for TPLO knee surgery and Penn HIP radiography for hip dysplasia free certification from the University of Pennsylvania. Dr. Prowse finds the mechanics of orthopedics and motion very interesting. From 2004-2011 he worked with Dr.Rushton in Halifax where they completed over 2000 TPLO procedures. On January 1st 2012 he joined our team and has been busy with orthopedic referrals from all three maritime provinces.
Dr. Prowse lives in Truro, Nova Scotia and is married to Pam. Together they have a son Bradley and a daughter Lindsay. He established Central Nova Animal Hospital in Truro in 1987. After selling this Hospital to his Associates he concentrated on orthopedics full time. For the past twelve years Dr. Prowse has volunteered time as Chairperson for the Atlantic Provinces Veterinary Conference.
Barbara Cook
Financial Assistant
Barb became a member of the Amherst Veterinary Hospital in the capacity as bookkeeper and assistant to the Veterinarians some years ago. At that time, the Hospital was primarily a large animal clinic and because of that, Barb has evolved and has experienced many changes. A valued member of the staff, Barb is very competent as our financial officer. She has a love of all animals large and small and has fostered many animals over the years. Barb not only has a wealth of knowledge but always has a smile for everyone.
Angelina Dembour
Registered Veterinary Technician
AVH recently welcomed Angelina to our family. We first met her during her "on the job" training after college (for veterinary technician). We were happy to have Angie join the team for good at the end of 2014. Angie originally hails from across the Atlantic ocean. She was born in Bornheim, Germany. She moved to Canada (to Tidnish) in 2003. From there, through hard work, dedication and necessity she learned English in order to get through school. After high school, Angie went on to study at Oulton College to become a registered veterinary technician (2011 graduate). Angie currently enjoys her down time in Tidnish with her small herd of animal friends and her longtime boyfriend. Angelina allows AVH to offer bilingual services in English and German (when she is working).
Emily Maclean RVT
Registered Veterinary Technician
Emily joined our staff in 2007 as a Veterinary Assistant. Emily earned her diploma as a Veterinary Assistant at Oulton's College and has been working in her profession since that time. She always has a smile for everyone and kind words especially for the patients. She loves her job and each day it shows. Emily is very involved in our local YMCA and serves on the Board of Directors as a young leader. Emily has also recently achieved her status as a Registered Veterinary Technician. Way to go Emily!!
Julie MacDonnell RVT
Registered Veterinary Technician
Julie has been with the Amherst Veterinary Hospital since September 2009. She grew up in Springhill and currently lives in that area with her husband and their pets. Julie has worked in the veterinary business since her graduation as a Veterinary Assistant since 2004. Along with assisting our Veterinarians in all aspects of the profession, Julie also is supervisor of our laboratory and maintains inventory control. She has a quiet and positive presence in our Hospital and loves to work with animals. Julie hit the books and recently achieved her RVT status along with Emily MacLean. GOOD JOB JULIE!!
Kim Giffin
Registered Veterinary Technician
As a graduate Veterinary Assistant and later a Veterinary Technician, Kim has been with us for since 2003. Over these years, Kim has developed many techniques and skills which are a definite asset to our Hospital. She is a busy Mom to her sons, Karter and Vaughn, as well as her pets. Kim has adopted many animals over the years and has fostered some as well. She is involved in all aspects of the Hospital along with assisting Dr.Prowse during his orthopedic surgeries. Kim's smile and love of all animals is a real asset at the Hospital.
Melissa Proctor
Registered Veterinary Technician
Melissa joined our team in September 2010. Once receiving a science degree from the Nova Scotia Agricultural College, Melissa ventured to Kamloops, British Columbia. There she successfully completed the Veterinary Technician program at Thompson Rivers University. Melissa is full of energy and often can be found having a conversation with our patients, which they love. We feel fortunate she came back to her roots.
Natasha Mackintosh
Registered Veterinary Technician
Natasha's first working experience at our Hospital began in 2009 while completing her student placement training. Upon successful completion as a Veterinary Technician, Natasha came to us on a full time basis. Her love of animals began at an early age with many family pets which not only include cats and dogs but also horses. Natasha has a gentle and quiet demeanor and loves interacting with the animals during their stay at the Hospital.
Sarah Greeno
Registered Veterinary Technician
The AVH family welcomed Sarah into the fold in December 2014. We were very happy to bring aboard this lovely lady. She is a farm girl at heart so she can do just about anything and not be grossed out. Sarah is a 2012 graduate of Oulton College from the Registered Veterinary Technician program. Her dedication and skill set are a testament to her conviction in career choice.
Sarah is a recent newlywed. In September 2014 she married her sweetheart and works on the family farm as well as here at AVH. She is a very busy girl! Many of you will recognize Sarah as she is an Amherst native.
Vanessa Reed
Registered Veterinary Technician
One of our newer Veterinary Technicians is Vanessa. As the top student in her graduating class of 2011, Vanessa takes her profession very seriously and loves working with our patients. She can always be found lending a helping hand and making sure all of our little ones are comfortable and warm. Vanessa grew up in Saint John, N.B. and currently lives in Sackville, N.B. with her husband and three pets.
Mary Lusby
Customer Service Representative
Mary is usually the first person to greet you at our Hospital. We are proud to say she has done so for some 26 years. Dr. Taylor recognized her abilities, as well as her helpful and happy personally while visiting her family's farm. She is an integral part of the Hospital and keeps the reception area running smooth. With her gentle caring way with our patients and compassion for the clients, we feel very fortunate to have her. Mary is married to Ross and together they have four children and three grandchildren.
Tish
Customer Service Representative
In 2003, Tish joined our reception team after working for some years in the retail industry. She is always willing to do her utmost to a assist our clients and is the one to see regarding fitting your pet with collars or harnesses. Tish has a wonderful attitude and gentle way with all animals. She and her husband have recently rescued greyhounds and are providing a wonderful life for these lucky dogs.